While mailing out, one of my books this morning, I realized something. I haven't told you all about
PaperBackSwap
yet! I've been a member on
PaperBackSwap
for going on eight months now, and have to honestly admit, although I was a bit weary at first, this is a truly great website!
If you're like me, I'm sure you have a couple of books laying around, that maybe at some point you've already read, and don't feel the need to reread, or that you might have been given, and will never read. You're just not quite sure of what to do with those books, and as it stands right now, they're collecting dust!
First of to be clear, even though it's called PaperBackSwap, they don't just handle Paperbacks. There are also hardcover, Audio CD, Audio Cassette and Large Print books available. The idea of PaperBackSwap works like this. You sign up with them, and you list all of the books that you don't want anymore, or well that you want to trade with other people in the USA. After listing your first 10 books you get two "start up" book credits good toward any other club member's books.
Choosing a hardcover or paperback book from a PaperBackSwap Member will cost you one book credit, Audio books are two credits.
Once someone chooses one of your books and asks you to send it to them, you will receive another book credit, once that member receives that book. Or if you do it like me and pay for the S&H via PaperBackSwap you'll get your credit right away.
All in all this is a really great system. They have guidelines on the conditions that a book can/ must be in. So far I've asked for and received 15 books and I have yet to be disappointed about the quality of the books!
If you don't have enough books or are lacking enough books to make enough credits for books that you want, you can always buy credits on their site. It would cost you $3.45 to buy one credit. Now keep in mind, that means that you would be paying $3.45 for a book that you really want to read. All of my Anne Rice collection has come from PaperBackSwap members, they're all in great condition and are hardcover books. Granted I didn't have to actually buy credits because I had right around 100 books that I posted lol, but even if I had, there's no place else I could have gotten them cheaper lol.
For any avid readers, or anyone that just really wants a certain book but doesn't want to pay full price, this site is definitely worth a second, third and fourth look lol. BTW for some of you college students, you'll have a pretty good chance finding Textbooks/workbooks as well.
What you'll need to sign up on PaperBackSwap:
A working email address, so they can notify you about swaps, wish list offers (the wishlist feature gets another big thumbs up from me!) and any other critical notifications.
A physical Mailing address where you want to receive your books.
You must be 18 and older
You must be within the United States
And you cannot be incarcerated *institutional memerships are not permitted.
You can sign up for PaperBackSwap by
clicking here.
And if you really love me, where it says
Referred by
you can let them know that I, "prplrush" referred you lol. You can also click on the button which should have my username/or email already on the form, once you click on signup.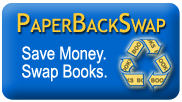 This by no means is necessary, you can sign up without having a referrer!
They do however have a referral program, and if someone does say they were referred by you, once they post 10 books you will get one book credit for that! If nothing else, just check out their site, you have absolutely nothing to loose if you love to read! If you do sign up, look me up, as I said before my username there is prplrush, and right now I have around 90 books on my trade list lol and I would love to make some PaperBackSwap Buddies!! And as always, if you have any questions about PaperBackSwap just comment and ask me, I'll be happy to answer your questions!